Dear Readers,
I've redone ALL FIVE covers for my Fairy Tales of the Magicorum series! Why update stuff? The Magicorum covers are all over the place. Some are funny, others look dramatic. A few are drawn, most are photos. It's been annoying the fuck out of me.
That said, I'm not just a mindless rage machine over inconsistent covers. I'm also SUPER EXCITED for the next book in the Magicorum series, Book 5, BANDITS AND BALL GOWNS! This journey began when I redesigned that cover and grew from there.
Take a look at the before and after on these covers… and scroll down to see a detailed view of the new cover for book 5, BANDITS AND BALL GOWNS!
Here's what they were before…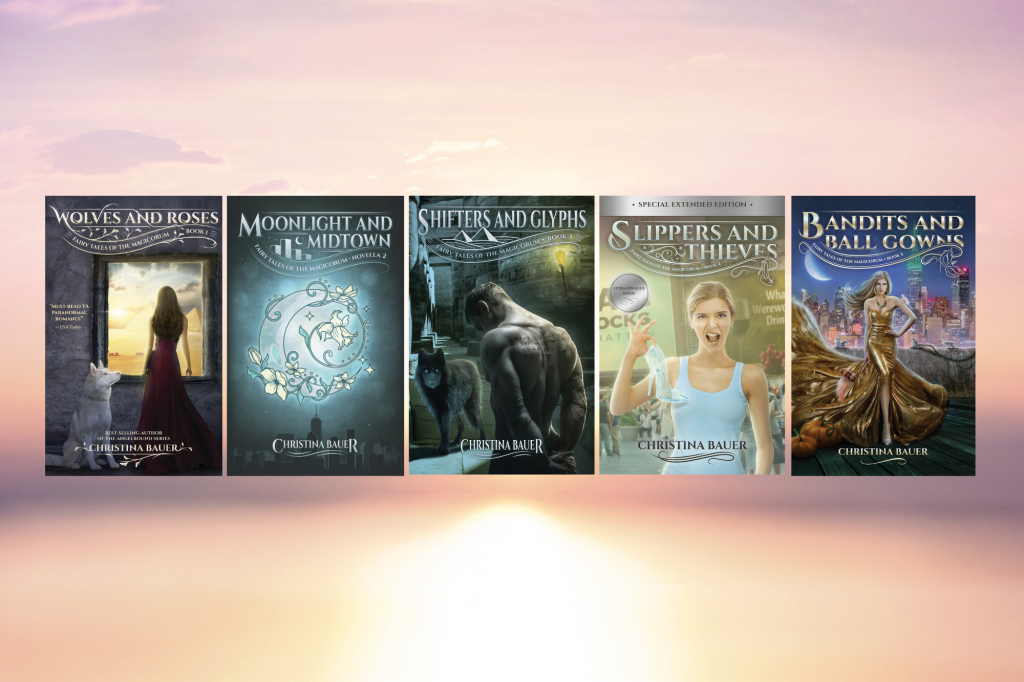 Check out what they are now…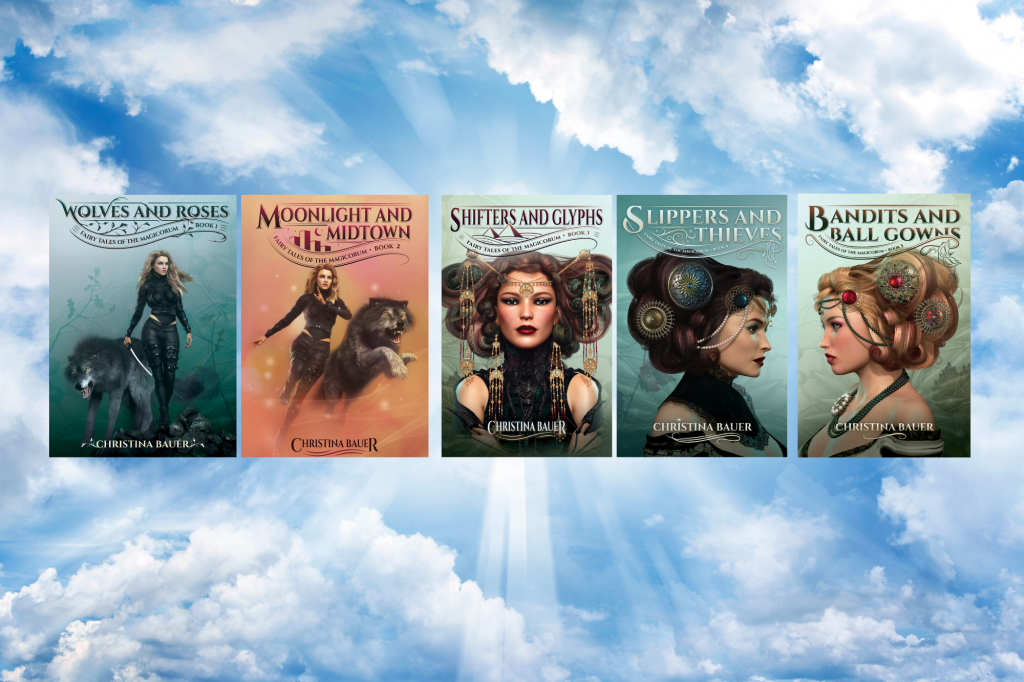 And here's info about each book in the series…
The New Book!
NEW BOOK – BANDITS AND BALL GOWNS (Book 5)
The conclusion to the story of Elle and Alec… as well as the adventure of Jacoby and Agatha! Only $6.99!
Buy Now: Amazon / Apple Books / Googleplay / Kobo / Nook
The Rest Of The Series!
WOLVES AND ROSES (Book 1)
Bryar Rose is supposed to live by a fairy tale life template: sleeping beauty. So why does she dream of ancient Egypt and a handsome young werewolf?
Buy Now: Amazon / Barnes & Noble / Kobo / Apple Books / GooglePlay
MOONLIGHT AND MIDTOWN (Book 2)
Bryar Rose and her bestie Elle (never call her Cinderella) go shopping in hidden Manhattan stores run by faeries. Mayhem ensues.
Buy Now: Amazon / Barnes & Noble / Kobo / Apple Books / GooglePlay
SHIFTERS AND GLYPHS (Book 3)
Bryar Rose discovers the secret behind her connection to the pyramids of ancient Egypt … and to the heart of a certain werewolf.
Buy Now: Amazon / Barnes & Noble / Kobo / Apple Books / Googleplay
SLIPPERS AND THIEVES (Book 4)
The story of Elle (never call her Cinderella) and Alec Le Charme, heir to Le Charme jewelry dynasty.
Buy Now: Amazon / Barnes & Noble / Apple Books / Kobo / GooglePlay