Dear Readers,
I'm redoing the covers for my Dimension Drift series, starting with Book 1, SCYTHE. There are five reasons why I did this. Oh, and to celebrate, I'm also discounting the book to 99 cents on Amazon / Barnes & Noble / Kobo / Apple Books / Googleplay
One. The 'I Gotta Be Me' Cover
With the original covers, the first three had a theme of characters running through walls. Then the fourth book, ECHO ACADEMY, did it own thing. It was walls, walls, walls and… WTF? That bugged me.
Two. I Like Visuals
Reviewers often say that reading my books is like watching a movie in their heads. And hey, that's what it's like when I write them, too! Even after the books are launched, I'm still picturing the story and how to enhance it. All of which leads to item number three…
Three. More Books A-Coming
Great news! I plan on adding two more books to the series, namely JUSTICE and SLATE. As it was before, the cover design template wasn't really expandable to those guys. After all, you can only run through so many walls before things starts to get repetitive. This new format will fit in the two new titles perfectly. Yay!
Four. Getting Less Literal
The first covers represented actual scenes from the books. It was fun at the time, but I think it's a little limiting in the long run. Plus, this series is science fiction which I think lends itself to more suggestive versus literal design. The new look should give you an idea of the book's themes without getting too specific.
Four. Reader Goodies
Recently, I added an extra appendix to SLIPPERS AND THIEVES, a title from my Fairy Tales of the Magicorum series. Readers really liked it—and I love making you all happy—so the new covers were a good excuse to add in more content here as well. In other words, all these new covers mean new extra content, too! WOOT WOOT!
So without further ado, here's the new cover for SCYTHE.  You can see the new before-and-after below. Be sure to scroll down to the bottom to see the full cover in large size!
-CB
Here's the before and after...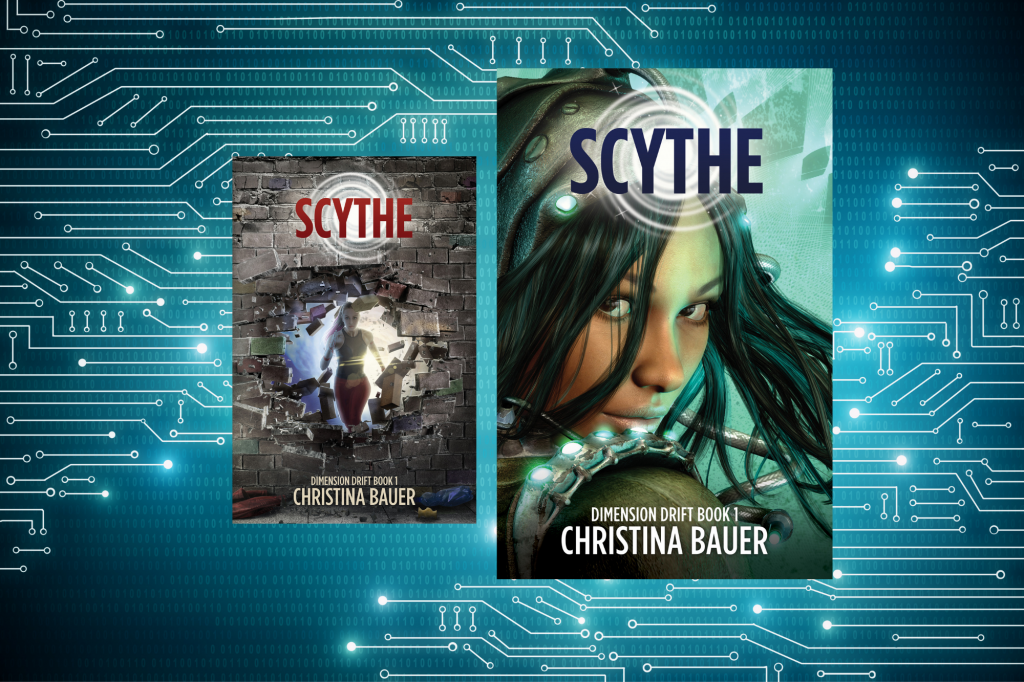 Now for the source art from artist Majorgaine. She builds everything as 3D computer art.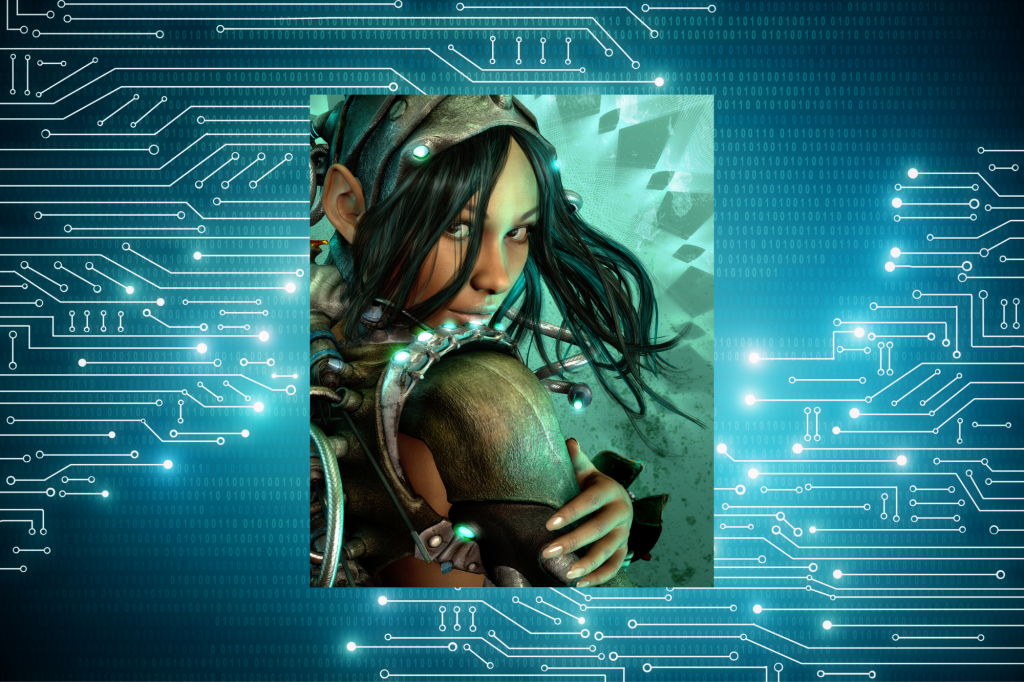 Check out the full print wrap cover…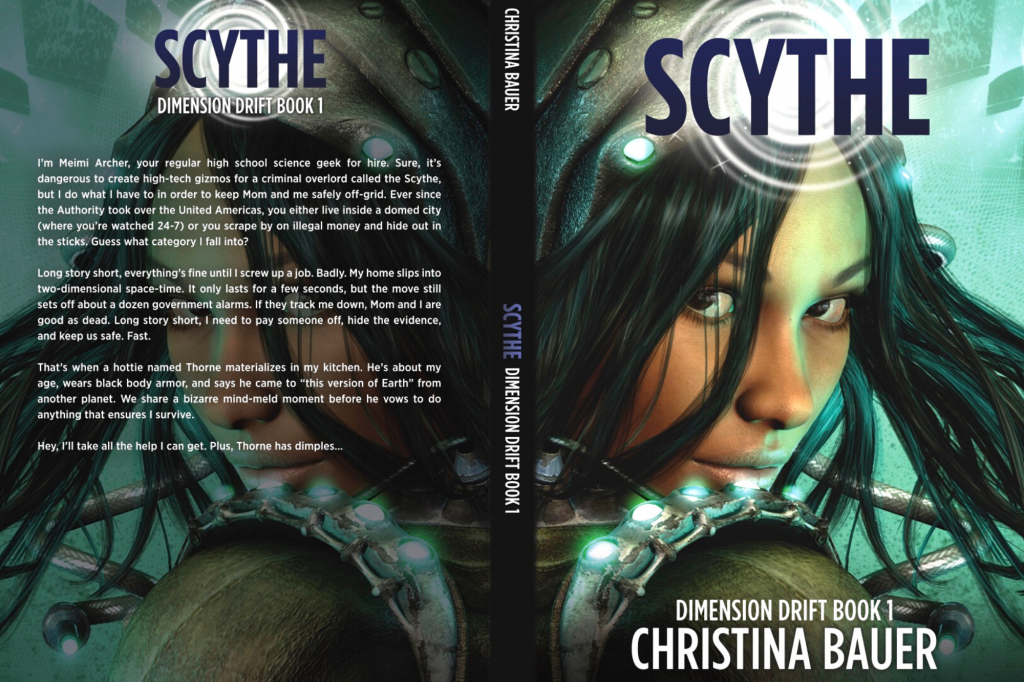 ABOUT SCYTHE (Dimension Drift #1)
See It On: Amazon / Barnes & Noble / Kobo / Apple Books / Googleplay
I'm Meimi Archer, your regular high school science geek for hire. Sure, it's dangerous to create high-tech gizmos for a criminal overlord called the Scythe, but I do what I have to in order to keep Mom and me safely off-grid. Ever since the Authority took over the United Americas, you either live inside a domed city (where you're watched 24-7) or you scrape by on illegal money and hide out in the sticks. Guess what category I fall into?
Long story short, everything's fine until I screw up a job. Badly. My home slips into two-dimensional space-time. It only lasts for a few seconds, but the move still sets off about a dozen government alarms. If they track me down, Mom and I are good as dead. Long story short, I need to pay someone off, hide the evidence, and keep us safe. Fast.
That's when a hottie named Thorne materializes in my kitchen. He's about my age, wears black body armor, and says he came to "this version of Earth" from another planet. We share a bizarre mind-meld moment before he vows to do anything that ensures I survive.
Hey, I'll take all the help I can get. Plus, Thorne has dimples…
"This kept me on my toes … Be it random science, opening portals to new dimensions, evading capture, doing shady deals with crime bosses, betrayal, the humdrum of school with Lead Camper Dave (snicker), to hot (alien) man-candy sent to help save the day. Pick this up and expect to get sucked in to the Dimension Drift." – Smada's Book Smack
This new series is perfect for: fans of urban fantasy, cool science, evil corporations, space operas, dystopian adventure and forbidden romance.